SEO Search engine optimization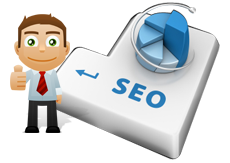 SEO (Search Engine Optimization)
is Starting point Digital Marketing Strategy. It is the process of achieving targeted potential customers to your web site from the different search engines like Google, Bing, Yahoo etc...
It is the common behaviour of the internet users not to search for expected result in more than two pages down in the search engine. So higher your website ranks in the search results the higher the chances to achieve more potential customers.
In Digital Marketing strategy, Search Engine Optimization (
SEO
) is not a onetime process. Every hour, every minute millions of website owners try to achieve the higher rank in the search engines. It is a complex and continuous process of Monitoring, Searching, Researching and Indexing of Keywords, Logical Implementation on your website and content with Promotion and Marketing Strategies.
SEO Process and Strategy
Review And Analysis
In-depth Site Analysis
Website Audit
Competition Analysis
Keyword Research for Competition
Keyword Research Global Searches
Initial Rank Report
Number of Keywords / Terms
On Page Optimization
Header Tags Optimization
HTML Code Cleanup & Optimization
W3C Validation
Internal link Structuring and Optimization
Content rewriting
Pages H tags optimization
Image & Hyperlink Optimization
Robots.txt Creation/Analysis
HTML Sitemap
XML Sitemap
Google Webmaster Tools
Yahoo Webmaster and Analytics
Google Analytics
Bing Webmaster and Analytics Tools
Off Page Optimization (Spread Over 6 Months)
Directories Submission
Guaranteed Back links
Article Writing & Submission
Press Release Submission
Social Bookmarking
Web 2.0 & Social Media Optimization
Blog Comments writing & submissions
Classified Submission
Forum Posting
Monthly Reporting
SEO Overview Report
Search Engine Ranking
Directory Submission Report
Article Submission Report & Updation
Google Analytics Analysis Report