Social media Consultancy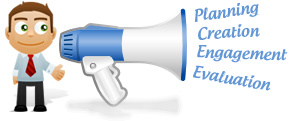 We help Businesses and Brands to listen, understand and engage in conversations in Social Media.
We Assist Businesses and Brands to use emerging social technologies to create long term business value through Social Media Channels.
Consultancy
We develop overall Social Media Strategies through Planning – Creation – Engagement – Evaluation, Training, Provide ad-hoc social media consultancy and advice.
Engagement
We help you Engage in Social Media by having meaningful conversations with people and word of mouth, through Engagement Campaigns, Community Building and Management, Social Platforms and Applications, Conversation Response and Reputation Management.

Social Media Consulting is Strategic Consulting, Creative Consulting, Technology Consulting, Mixture of Right Ingredients in right proportions.
Why to Choose us as your Social Media Consultant
Experience
Over 12 years experience in Online Marketing and Digital Marketing.
Focus
We create and manage successful Social Media Strategies on one to one basis
Expertise
We have expertise over Brand Reputation, Social Engagement, Social Media Strategy, & most importantly, ensure businesses succeed online
Transparent
Strategix Works with Complete Transparency with customers.
Synchronized
In our Social Media Consulting Solution we work in sync with your existing online marketing team, ensuring a transparent strategy is managed and maintained.
» We Monitor Latest Trends and Implement them in your Social Media Campaign Strategies as per your need of objective.
» We will design you a bespoke Social Media Optimization campaign based on your objectives and will help you to make a positive impact and connect with your target communities.